Welcome to Kokoro Connect Wiki!
The one and only wiki about the light novel series written by Sadanatsu Anda and animated by
Starchild Records, Silver Link, Sentai Filmworks and Enterbrain. We currently have 4,900 edits to
148 articles and 572 images on this wiki. Feel free to help us by editing our articles.
This wiki is likely to contain unmarked spoilers from the series! Read at your own risk!



Kokoro Connect (ココロコネクト, Kokoro Konekuto) is a light novel series written by Sadanatsu Anda, with illustrations by Shiromizakanawhich was published 11 volumes between January 2010 and March 2013 by Enterbrain. Two manga adaptations have been published by Enterbrain and Kadokawa Shoten. A 13-episode anime adaptation directed by Shin'ya Kawatsura, written by Fumihiko Shimo, and produced by Silver Link aired in Japan between July and September 2012. Four additional episodes aired on December 30, 2012.

---

Every school has their collection of people who just don't fit in. The five members of Yamaboshi High's Cultural Research Club are a case example. Consisting of one wrestling geek, the peppy popular girl, a cool loner, a class clown, and one petite karate prodigy, the CRC are certainly the most interesting lot around.

Unfortunately, a certain supernatural being by the name of Heartseed couldn't agree more. With his mysterious powers, the Cultural Club find themselves switching bodies with one another for the sake of his amusement. Needless to say, the bizarre phenomenon quite literally forces the friends to walk a mile in each other's shoes. Trying to keep their worlds from falling apart, the Cultural Club learn new things about each other and themselves as they unearth hidden secrets, gain valuable friendships and maybe even discover a little love along the way.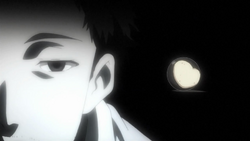 Heartseed (ふうせんかずら, Fūsen Kazura?)
The supernatural being responsible for causing many of the mysterious phenomenons. The StuCS club members are left with little choice but to be his amusement, each time overcoming his trials until Heartseed is adequately entertained.
(read more)
That Himeko Inaba left the Computer Club after she got into an argument with the Computer Club President?
That Iori Nagase's mother has been divorced 7 times?
That Inaba usually call Taichi a Selfless Freak?
That Yui Kiriyama suffers from androphobia; a fear of men?
That in Yume Random, Yui Kiriyama aspires to become a police officer and plans on taking Art courses in her 3rd year?
That Heartseed considered Aoki Yoshifumi as the weakest member of the five?
For anyone who wishes to get involve. Feel free to help expand this wikia. However, please remember...
To allow your writing to be presentable for the public.
Help fix the grammar if you do not think it make sense.
To add appropriate categories to any page you might be making.
To use the Template:Naming for applying names and terms.
To add a Template:Character InfoBox when adding a character page.
For any sign-in wikia contributors who wants to upload images, please save them in .png format; as the .jpeg format loses data.
For any sign-in wikia contributors who wants to upload images, please remember to specify licensing.
---
To write a new article, just enter the title in the box below.
Kokoro Connect Light Novel Volume 11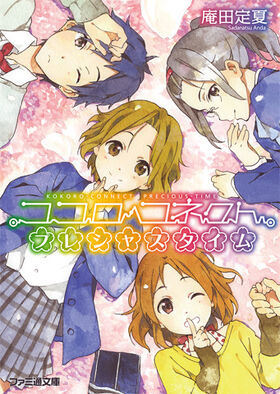 "Precious Time"
Kokoro Connect: Precious Time is a Japanese light novel written by Sadanatsu Anda, with illustrations by Shiromizakana. It was released on September 30, 2013 and serves as the epilogue to the series with new side stories. (read more)
"
The point of life isn't to be perfect. It's to do want you want to do, to be who you want to be. That's how I should be trying to live.
"
Name of the cultural club (文化研究部)?
Who is your favorite character from Kokoro Connect?
Would you like to see the remaining light novels animated?
Community content is available under
CC-BY-SA
unless otherwise noted.